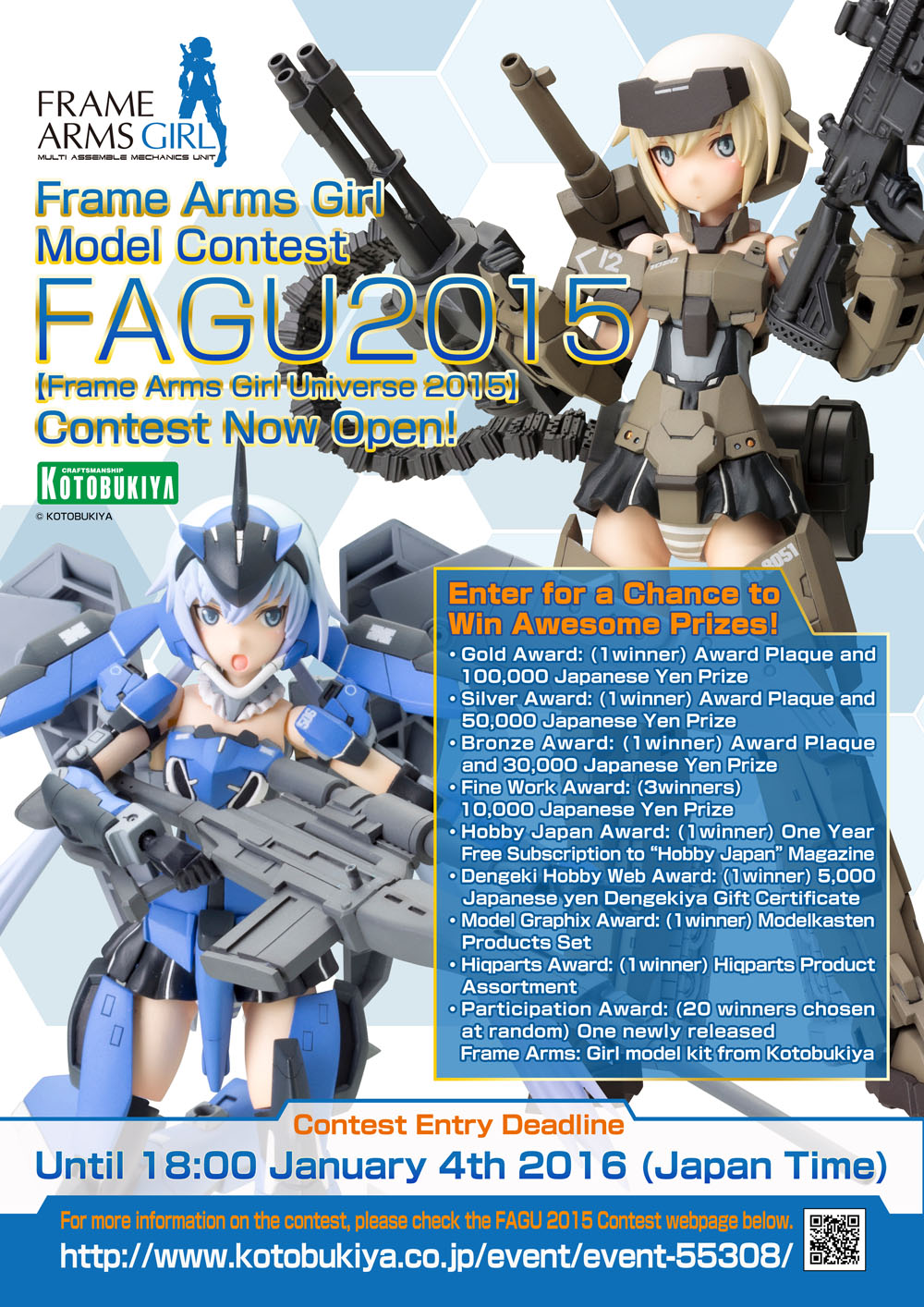 Frame Arms Girl Universe 2015 –FAGU2015-
Event Information
<Applicable Items>
Kotobukiya Frame Arms Girl product series
<Awards>
■Gold Award: (1 winner) Award Plaque and 100,000 Japanese Yen Prize
■Silver Award: (1 winner) Award Plaque and 50,000 Japanese Yen Prize
■Bronze Award: (1 winner) Award Plaque and 30,000 Japanese Yen Prize
■Fine Work Award: (3 winners) 10,000 Japanese Yen Prize
■Hobby Japan Award: (1 winner) One Year Free Subscription to "Hobby Japan" Magazine
■Dengeki Hobby Web Award: (1 winner) 5,000 Japanese yen Dengekiya Gift Certificate
■Model Graphix Award: (1 winner) Modelkasten Products Set
■Hiqparts Award: 1 Winner Hiqparts Product Assortment
■Participation Award: (20 winners chosen at random) One newly released Frame Arms: Girl model kit from Kotobukiya
<How to Enter>
Please submit entries to the FAGU2015 homepage
URL: http://kotobukiya.hobies.jp/fag_universe2015/guestpost
Kotobukiya judges will review all photos submitted.
Submissions must include 4 photos: best angle of your choice, front, back, and side shots of your work.
Each photo must be in JPEG (.jpg) format and not exceed 400KB.
Please label your files in half-width alphanumeric characters.
Printed files, CD-ROM, and other physical formats sent through mail will not be accepted.
<Submission Period>
2015/9/26 (Saturday) 10:00 ~ 2016/1/4 (Monday) 18:00 Japan Time
<Application Qualification>
■No experience required (professionals and amateurs are all welcomed).
■You must submit your own work.
<Notice>
■All works submitted must be created using official Kotobukiya's Frame Arms Girls plastic model kits. All entries including any bootlegged, copied products will not be accepted.
■All customized works must be use parts that are self-made or from the following series: Frame Arms Girl, Frame Arms, M.S.G products. Parts from other plastic model kits or custom parts may not be used. However, use of materials such as electric devices and mechanical parts, as well as decorative items made by Hiqparts and Gaianotes are permitted.
■Violations of third party copyright or other intellectual property, as well as infringements such as photograph infringement will not be tolerated. In the case that a dispute with a third party caused by the applicant's work takes place, the applicant will be responsible for compensation to Kotobukiya and the third party for any damage. 
■Any of the following listed, or anything deemed inappropriate by Kotobukiya, will be disqualified (even winning entries).
1. Work contrary to public policy
2. Work including any personal information
3. Work including any abuse and/or harassment to any person or group
4. Plagiarized work
5. Anything else that is unrelated to the contest
<Handling Submitted Works>
■All submitted data are subject to press and promotional use by Kotobukiya:
1. Kotobukiya's home page, blog, and SNS
2. Kotobukiya advertisements
3. Hobby related magazine publications
4. Kotobukiya direct store and/or event displays
5. Other promotional use determined necessary by Kotobukiya
■When publishing submitted works, Kotobukiya may crop and/or make adjustments to the submitted photos' colors, correct any misspelled words and typing errors (titles, comments, etc.), and/or omit some parts of the comments.
■Winners may be asked by Kotobukiya to lend their works for display and photo taking purposes.
■All submitted works will be handled with extra care, but please be aware that there is also a low possibility of damage or loss.
<Handling Personal Information>
■All personal information taken from the contest application will be used for the following purposes:
1. Application management for this contest
2. Inquiry, application confirmation, contacting winners for this contest
■All personal information obtained from the applicants for this contest, if with consent of the applicant, and unless required by law, will not be provided to third parties except when necessary to use the entries noted in the application guidelines.
For other inquiries regarding this contest, please contact us below.
Kotobukiya Co., Ltd. Advertisement Department
E-mail:senden@kotobukiya.co.jp